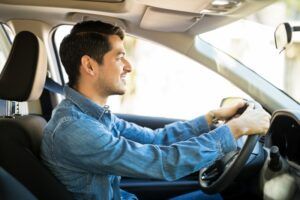 Steering
Whether you've noticed a wobble in your steering wheel or a strong pull to the left or right, the expert mechanics at Fort Collins Muffler and Automotive are here to help. When it comes to steering, reliability is absolutely crucial. That's why our team can help with everything you need to keep your vehicle safe on the road.
From inspections to determine whether or not there's an issue to routine maintenance to implementing repairs, we strive to be the best auto shop in our neck of the woods. We know just how important it is to have a smooth ride, so if you're experiencing problems, don't hesitate to contact us today to schedule an appointment.
Local Steering Service and Maintenance
Although the concept of steering seems simple — turn the steering wheel to turn the tires — the truth is that it's much more complex than that. In fact, a number of connected parts all work together to provide you with a smooth, stable ride, and if one thing's not working right, it can cause many other problems.
With so many moving parts, choosing an experienced local mechanic can make all the difference in the world. Thankfully, when it comes to auto repair and vehicle maintenance in Fort Collins, our team has you covered with industry-leading services and an unsurpassed attention for detail.
The Auto Repair Shop You Can Trust
Since 1977, Fort Collins Muffler and Automotive has been one of the most trusted auto shops in the area. That's because we're dedicated to providing each and every one of our customers unrivaled service that they can rely on. We know that finding a mechanic can be difficult and it can be hard to know who to trust — but when you choose to work with us, we'll go the extra mile to ensure that everything is working properly with your vehicle.
Best of all, we only recommend services to our customers that we'd choose for our own vehicles. In other words, we work hard to steer you in the right direction. From steering system inspections to maintenance to repairs, our team does it all.
Contact Us Today
At Fort Collins Muffler and Automotive, we work on all makes and models of vehicles. Because we bring over 40 years of hands-on experience to the table, you can count on us to accurately assess each problem before coming up with a solution that best suits your specific needs. In fact, we can often foresee potential issues and we're able to offer our advice before your problems become a bigger headache down the line.
As a family-owned and operated business, we seek to be the auto shop you turn to in your time of need. With free consultations and estimates, we're able to ensure that each and every one of our customers gets the information they need. Whether you've brought your car in in the past or you are seeking a second opinion on a repair you were recommended elsewhere, we won't let you down.
Contact us today to schedule an appointment.