Convenient Auto Alignment in Fort Collins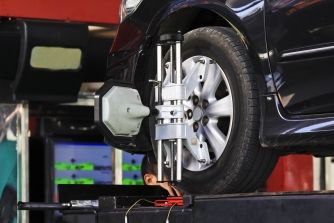 A steady drive is a sign of a well-aligned vehicle. Wobbling wheels and uneven wear on tires evidence an automobile that is due for an alignment. Uneven wear on your tires can lead to several problems, including premature tire replacement, trouble braking, or even losing control of your vehicle.
Improved Performance with Correct Alignment
If you can't remember the last time you had your tires aligned, chances are it's time for a check-up. Even if you can't sense a problem with your drive, subtle nuances in tire wear and pull can eventually cause larger problems down the line. Have your automobile evaluated and you can rest assured knowing you are operating a properly aligned vehicle.
When you work with our mechanics, you receive the benefits of:
Over 40 years of experience
Technicians who prioritize integrity, honesty, and convenience
A community-conscious team who invests in local sports and charities
Fast and effective service for high-quality results
Call 970-325-6630 today to schedule your alignment check.