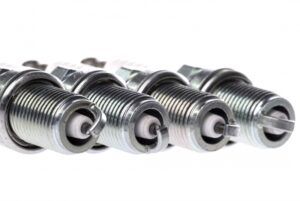 Ignition Systems
Whether it's a part of your vehicle maintenance plan or you're in need of ignition system repair, the team of mechanics at Fort Collins Muffler and Automotive is here to provide the help you need.
From spark plugs and spark plug wires to ignition modules, no matter the issue you're having with your ignition system, you can count on us to go the extra mile to diagnose and repair your vehicle so you can get back on the road without any hassle.
Ignition System Maintenance and Repair
You may know that your ignition system should be inspected annually, and whether it's been awhile since yours has been checked or you've just noticed a problem with your vehicle's ignition, it pays to make it a priority to see a mechanic. Your engine depends on your ignition system — and we highly recommend visiting an auto repair center at the first sign of trouble. In fact, if you ignore the problem, it always gets more expensive. That means a big future headache.
The good news is that at Fort Collins Muffler and Automotive, we make it easy to get the help you need when you need it. Since 1977, we've been the go-to mechanic in our community. There's nothing we love more than providing assistance in keeping your vehicle running smoothly.
We're Here to Lend a Helping Hand
Fort Collins is truly an incredible place to live, and that's why at Fort Collins Muffler and Automotive, we're dedicated to providing our neighbors with affordable auto repair and vehicle maintenance services. You deserve to have a mechanic you can rely on for honest information and affordable prices — and that's exactly what you can expect when you choose to visit us.
When it comes to your ignition system, your problem may lie in your spark plugs, spark plug wires, ignition coils, distributor, or distributor cap. Luckily, no matter the specific issue you're facing, our team of experts makes it easy to handle any issues before you find yourself with an engine that won't turn over.
Exceptional Fort Collins Auto Repair Services
As you can probably tell from our name, Fort Collins Muffler and Automotive is located in Fort Collins, but we proudly accept guests from all along the Front Range. For the past 40 years, we've built a reputation for our honesty and affordability, and we work on vehicles owned by CSU students, visitors who are just passing through, and people from neighboring communities alike.
At the end of the day, we know that you have a choice when it comes to which mechanic you'll visit. We want you to know that when you bring your vehicle to us, you can count on us for honesty and integrity throughout the entire process. In fact, at Fort Collins Muffler and Automotive, we won't recommend a service for your vehicle that we wouldn't have done for our own. Contact us today to schedule an appointment for your ignition system and rest assured that you're in good hands.