Car Care Club
Fort Collins Repair Services for Every Vehicle
Dear Friends and Clients,
Buying a car is expensive. And unfortunately, maintaining that car to keep it in peak running condition can be expensive, too… that is… until now!
Hi, this is Brian Dwyer, owner of Fort Collins Muffler and Automotive. I'm really excited about a brand new program we've started called the Car Care Club. We've formed this club to help you save hundreds of dollars on many of the auto repair services that you'll probably need over the next year in order to properly maintain your car.
Membership Has Its Privileges
When you join our club, you'll be one of our privileged clients that will get to enjoy hundreds of dollars in savings over the next year. As a member, you'll receive a special Car Care Club Card that is filled with all of the following car care products and services:
JOIN OUR CAR CARE CLUB AND SAVE UP TO $400!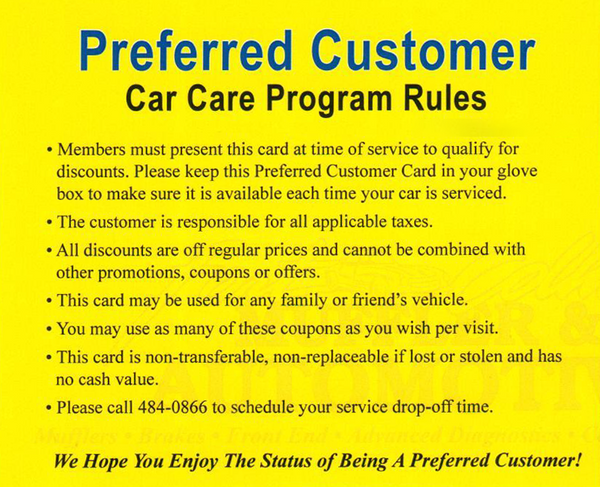 What Do I Get?
4 FREE Oil Changes Conventional (or Two Free Synthetic oil changes) $39.99 Value EACH
FREE Shuttle
FREE Loaner Vehicles
Save 10% on Minor Engine Tune-Up
$20.00 OFF Induction Service (For a top performing fuel system)
25% OFF Drivability Testing (Does not apply to tear down)
Save $20 on Coolant Flush
10% OFF All Parts on Any Service (Excludes Tire Sales, Transmission Repairs and Engine Replacement)
FREE Comprehensive Vehicle Inspection
FREE Alignment (most vehicles) (Does not include VSC relearn)
15% OFF Parts for Premium Brakes (10% Off Standard Parts)
10% OFF Timing Belt Replacement Service Good on parts and labor.
WHAT IF MY CAR DOESN'T NEED ALL OF THE SERVICES?
Can be used with multiple vehicles.
Coupons can be used by you, family members, or friends.
Why Are We Doing This?
Well quite frankly, advertising monthly specials is getting too darned expensive. We'd rather bundle many of the services that you're going to need over the next year and put them on one discount card. That way, the next time you need service, you won't have to go searching the papers to find the best coupons. You'll already have the Car Care Club Card with the best specials on it right in your own glove box.
Plus we love to see our clients coming back to our shop again and again. We've found that we can do a much better job repairing and maintaining your vehicle if we get a chance to see it every few months when you get your oil changed and possibly discover that worn belt or cracked hose before it strands you on the side of the road.